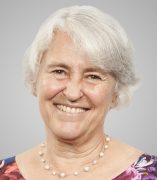 Joanne Simboli Hodge
Clinical Professor
Director, Moot Court Honors Program
Contact
Address:
300 S. State Street, Chicago, Illinois 60604
Office Phone:
Email:
CV Link:
Related Sites:
About
Professor Joanne Simboli Hodge is a graduate of Swarthmore College and Northwestern Law School. After law school, she clerked for the Honorable Luther Swygert on the Seventh Circuit Court of Appeals. From 1986-1998, she was an Assistant Corporation Counsel with the City of Chicago Law Department, working in the Appeals Division (1986-89), the Labor and Personnel Division (1989-93), and the Labor Division (1993-97). During that time, she defended the City on employment matters including Title VII and constitutional litigation in federal court and retaliatory discharge, defamation, and mandamus actions in state court. She also handled a variety of administrative cases before the EEOC, IDHR, and Labor Board and represented the City in labor arbitrations. Professor Hodge then served as an Administrative Law Judge with the Illinois Human Rights Commission.
Following that time, she was an associate with Chicago-based firm Neal Murdock & LeRoy, where she litigated, consulted on, and mediated employment and labor matters. Immediately prior to coming to John Marshall, Professor Hodge taught at the DePaul University College of Law. She came to John Marshall as a Visiting Professor in 2004 and joined the full-time faculty in 2006. She teaches Employment Law, Disability Law, Lawyering Skills, Appellate Writing, Contracts II, and Alternative Dispute Resolution, and is Associate Director of the Moot Court Program.
In 2009 she was honored as Favorite Professor of the Graduating Class, as well as Favorite Professor of Small Classes. She sits upon the school Strategic Planning Committee and mentors students applying for federal clerkships. She is a certified mediator, supervises students in the pro bono mortgage foreclosure mediation program, and is involved in drafting rules for the new Elder Law court mediation project. In addition, Professor Hodge serves as co-chair of the amicus committee for the National Association of Women Lawyers and co-wrote the organization's successful amicus brief in the Title IX/Equal Protection case of Fitzgerald v. Barnstable.