International Human Rights Clinic Works to Support Civil Society and Coalition Work in the United Nations
International Human Rights Clinic Plays Important Role in Supporting Human Rights Coalition at the United Nations Heading link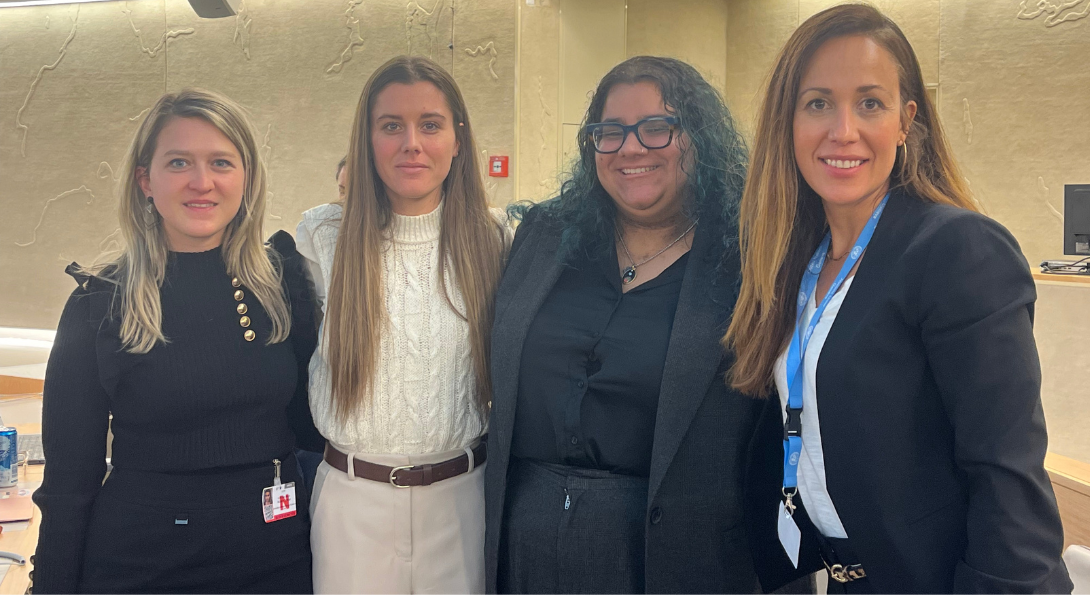 This week is the United Nations Human Rights Committee review of the United States in relation to the International Covenant on Civil and Political Rights. Director of the UIC Law International Human Rights Clinic Sarah Dávila A. took five law students with her to the United Nations in Geneva, Switzerland where they have done incredible work to support civil society and coalition work.
According to U.S. human rights civil, the United States has not provided concrete steps and implementation measures to protect human rights recognized under the International Covenant on Civil and Political Rights.
Since the weeks leading to the U.S. review this October 2023, the UIC International Human Rights Clinic has produced summary of reports, compilation of interventions through civil society statements and responses, and provided critical support to civil society engaging with this international body. More than 140 people, an impressive civil society group engaging in human rights advocacy, demanded justice and the protection of human rights for all, and especially for the most marginalized.
Professor Dávila A., has been involved with international human rights advocacy through the ICCPR Taskforce since 2014, shortly after co-founding the International Human Rights Clinic at the law school. Her work in this and other human rights coalitions has been important for UIC clinic students to engage in human rights advocacy and understand what real human rights advocacy looks like at United Nations and other international bodies.
"For our students to engage in real human rights work is critical. This experience can shape their view of international advocacy and how this international system can be navigated through a rights-based approach in human rights advocacy" said Dávila A.
The UIC International Human Rights Clinic offers law students a background in human rights advocacy through practical experience on working on international human rights cases and projects.
Modified on October 18, 2023