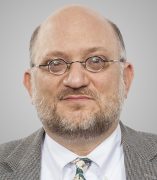 David E. Sorkin
Associate Dean for Academic Programs
Associate Professor of Law
Contact
Address:
300 S. State Street, Chicago, Illinois 60604
Office Phone:
Email:
CV Download:
About
David Sorkin teaches courses in technology and privacy law, consumer law, and legal research, writing, and analysis. He has taught at UIC John Marshall Law School and its predecessor, The John Marshall Law School, since 1991, and was appointed Associate Dean for Academic Programs in 2018. He has also taught at the law schools at Indiana University-Indianapolis, Loyola University Chicago, Northern Illinois University, and Southern Cross University in Australia.
Professor Sorkin created John Marshall's original website in 1994, and the following year he began teaching one of the first law school courses on cyberspace law. He has also taught courses on other current topics, including online dispute resolution and regulation of unsolicited email, and has taught online and hybrid courses as well as in a traditional classroom. He writes about privacy, technology, intellectual property, and consumer protection, and has served as a dispute resolution panelist for Internet domain name disputes since 2000.