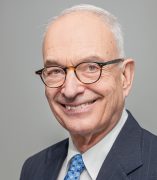 Michael P. Seng
Professor of Law
Director, Fair Housing Legal Support Center
Contact
Address:
300 S. State Street, Chicago, Illinois 60604
Office Phone:
Email:
CV Link:
Related Sites:
About
Michael Seng is the Director of the Law School's Fair Housing Legal Support Center. He lectures nationally and publishes extensively on fair housing law.
Professor Seng also is the coordinator of UIC Law's Czech law program. He travels annually to the Czech Republic to teach and publishes articles, in English and Czech, in Czech law journals.
Prior to joining the Law School's faculty, Professor Seng served as a judicial law clerk, was in private practice, and directed the legal services office in Cairo, Illinois. Professor Seng served as a Fulbright professor in Nigeria in 1983-84 and as a visiting professor in the Czech Republic in 1996. He writes on civil rights issues.
Professor Seng joined the faculty in 1976. He teaches Comparative Legal Systems, Constitutional Law, and Federal Courts.