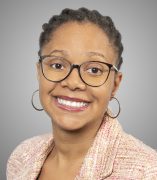 Shakira D. Pleasant
Assistant Professor of Law
Director, Legal Writing Resource Center
Contact
Address:
300 S. State Street, Chicago, Illinois 60604
Office Phone:
Email:
CV Link:
Related Sites:
About
Shakira Pleasant joined UIC Law in 2019 as Assistant Professor of Law and Director of the Writing Resource Center. Previously, she taught at law school and undergraduate campuses in Miami, Savannah, and Washington, D.C. Professor Pleasant holds a J.D. and a Bachelor's degree in Political Science. She is also licensed in California, the District of Columbia, and the United States Supreme Court.
As a licensed attorney, Professor Pleasant worked in Washington, D.C. and has experience in land use, administrative law, regulation and policy-drafting, disability law, and HIPAA/privacy law. Her scholarly interests include higher education, disability law, and process management/improvement. Her work has been published in the University of Pennsylvania Journal of Constitutional Law, the Journal of Legal Communication & Rhetoric, the University of Miami Business Law Review, and the University of Denver Online Law Review.
Her goal as Director of the Writing Resource Center is to ensure that students' experience is both enlightening and empowering. She believes that growth mindset is essential to the practice of law, and she impresses upon any student she meets that clear, concise, and thoughtful legal drafting is a necessary skill to have a long professional career.