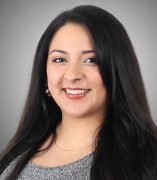 Alejandra Palacios
Staff Attorney
International Human Rights Clinic
Contact
Address:
300 S. State Street, Chicago, Illinois 60604
Email:
About
Alejandra Palacios is a Staff Attorney for the International Human Rights Clinic. In her position, supervises law students on asylum cases, outreach, and immigrant-justice projects.
Before joining the International Human Rights Clinic, she was a Staff Attorney at the National Immigrant Justice Center (NIJC) in Chicago, in the Children's Protection Project. At NIJC, she provided direct representation and counseling to detained and non-detained unaccompanied immigrant children before U.S. Citizenship & Immigration Services and the Chicago Immigration Court. Before working at NIJC, Alejandra was the Illinois Bar Foundation fellow with the International Human Rights Clinic where she worked on expanding the clinic's asylum practice.
She holds a BA in Political Science and Psychology from the University of Illinois Urbana-Champaign and a JD from UIC Law.