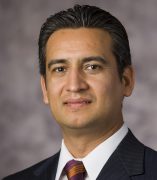 J. Damian Ortiz
Clinical Professor of Law
Director, Pro Bono Litigation Clinic
Contact
Address:
300 S. State Street, Chicago, Illinois 60604
Office Phone:
Email:
CV Link:
Related Sites:
About
J. Damian Ortiz is a Clinical Professor of Law and the Director of the Pro Bono Litigation Clinic at UIC John Marshall Law School. He teaches civil rights, prisoners' rights, Illinois civil procedure, fair housing, fair lending, legal writing, and other courses. He has litigated civil rights cases in administrative, state, federal, and appellate courts. His most noteworthy case is Sullivan-Lackey v. Godinez, 352 Ill. App. 3d 87; 815 N.E.2d 822 (1st Dist. 2004), where the court held that the federal housing assistance program, Section 8, is a lawful source of income and landlords cannot deny housing to Section 8 recipients. The court further stated that such a finding is consistent with the city's policy to assure full and equal opportunity to obtain fair and adequate housing without discrimination against home seekers because of their source of income. In Ho v. Donovan, 569 F.3d 677 (7th Cir. 2009), the court affirmed the trial court's decision on liability and damages.
Professor Ortiz speaks on section 1983, fair housing, lending, employment, foreclosure and civil rights issues nationally. He supervises staff attorneys and law students at the Pro Bono Litigation Clinic. Professor Ortiz has received numerous awards for his community service and dedication to civil rights. He previously clerked for the Honorable Ronald A. Guzman of the United States Court for the Northern District of Illinois. He is an active member of the Hispanic Lawyers Association of Illinois, the Hispanic Bar Association, Illinois State Bar Association's, American Bar Association, Chicago Bar Association, and the Clinical Legal Education Association. Professor Ortiz was reappointed to the Illinois Attorney Registration & Disciplinary Commission's Hearing Board, including the ISBA Judicial Review Committee and the Racial & Ethnic Law Council. He continues to volunteer in numerous not for profit organizations. He serves on the boards of the Public Interest Law Initiative and Metropolitan Housing Development Corporation.