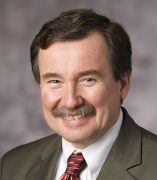 William B.T. Mock
Professor of Law
Contact
Address:
300 S. State Street, Chicago, Illinois 60604
Office Phone:
Email:
CV Link:
Related Sites:
About
Since joining the faculty of The John Marshall Law School, Professor Mock has served as Associate Dean for Academic Affairs, Chair of the Faculty Executive Committee, and Chair of Strategic Planning. He founded the Center for International & Comparative Studies and its LLM programs in Comparative Legal Studies and International Business & Trade Law. He was the co-founder of the Journal of Computer and Information Law, has coached dozens of moot court teams, and has often served as faculty advisor for the International Law Society. Professor Mock's publications are largely in the field of international law, including aspects of both transparency and game theory. Most recently, he published a book that he and an Italian law professor edited on the European Charter of Fundamental Rights.
During 2011-2013, Professor Mock was the Publications Officer of the ABA Section of International Law, supervising the production of scholarly publications going to over 24,000 international legal practitioners. During 2010-2011, he was the Chair of the Section of International & Immigration Law of the Illinois State Bar Association. From 2009-2011, he co-edited (with Professor Mark Wojcik) the "Year-in-Review" issue of the ABA's publication, The International Lawyer. He was the co-author of the 2000 Jessup moot court problem for the American Society of International Law. He has served on eight academic accreditation teams for the ABA and the Association of American Law Schools. He also serves in a consultative position with the Uniform Law Commission working group on the Vienna Convention on Consular Notification.
Among Professor Mock's international responsibilities are aspects of UIC John Marshall's relationships with law faculties in Italy and Mexico. He has lectured or provided academic technical assistance in Belarus, China, the Czech Republic, Ireland, Kazakhstan, Lithuania, Poland, and Russia, and, since 1998, he has frequently been a professor-in-residence at the law faculty of the University of Cagliari in Sardinia, Italy.
Before joining John Marshall's faculty in 1983, Professor Mock practiced international trade, antitrust, banking, and securities law in Washington, DC, before federal appeals courts and administrative agencies. Subsequently, he served with Baker & McKenzie as one of the world's first in-house legal educators prior to joining John Marshall's faculty. He has also served regularly as a securities and commodities arbitrator. At UIC John Marshall, he teaches Corporations, Securities, International Trade Law, International Law, International Human Rights Law, and International Environmental Law.