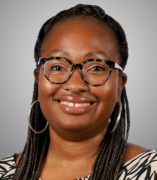 Danielle McCain
Director
Legal Writing Resource Center
Contact
Address:
300 S. State Street, Chicago, Illinois 60604
Office Phone:
Email:
About
Danielle McCain joined the Writing Resource Center in 2019, after previous roles with the Fair Housing Legal Support Center & Clinic and teaching in the Lawyering Skills Program. She holds a JD and a bachelor's degree in history.
Danielle was a 2019 Chicago United for Equity (CUE) Fellow and from that experience, retooled her approach to fighting for underserved and marginalized individuals and communities. Her remarkable work as a civil rights lawyer and social justice advocate for more than sixteen years, spans law firms, nonprofit organizations, and academic institutions. With visionary leadership and her trademark versatility, Danielle strategically navigates spaces with the imperative of leaving them more diverse, inclusive, equitable, and just.
Danielle takes her passion for advocacy, coupled with her practice experiences, to contextualize legal drafting so that it is not in the abstract, but has real-life application. She works to help students understand the power of their words and the corresponding value in developing their drafting skills. Danielle's goal is to help students build their "drafting muscles" so that they are confident, competent, capable writers, and ultimately, successful in their professional pursuits.