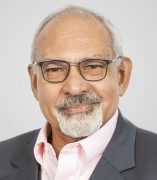 Rogelio A. Lasso
Professor of Law
Contact
Address:
300 S. State Street, Chicago, Illinois 60604
Office Phone:
Email:
CV Link:
Related Sites:
About
Prior to law school, Rogelio Lasso worked as a scientist, entrepreneur, and consulting engineer. After law school, he was in private practice with two Chicago law firms where he litigated cases ranging from medical malpractice and products liability to breach of contract and patent infringement. Lasso has taught at the University of Missouri at Kansas City School of Law and Washburn University School of Law. He was been a visiting professor at DePaul and Santa Clara law schools and has taught in the summer programs at Washburn and Loyola law schools.
At UIC John Marshall, Professor Lasso teaches Torts, Products Liability and Complex Litigation, advises the Latino Law Student Organization, and conducts empirical research on how to improve law students' analytical and self-learning skills.
He is currently working on articles on "How Teaching Assistants are the Key to an Effective Multiple Assessment Program" and "How To Institutionalize a Multiple Assessment Program in Law School."
His latest article, "Is Our Students Learning?: Using Assessments to Measure and Improve Law School Learning," was published in 2010 in the Barry Law Review.