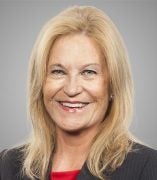 Margaret O'Mara Frossard
Associate Dean for Professionalism & Career Strategy
Justice (Ret.), Illinois Appellate Court
Contact
Address:
300 S. State Street, Chicago, Illinois 60604
Office Phone:
Email:
About
Justice Margaret O'Mara Frossard was appointed Associate Dean for Professionalism and Career Strategy in 2013. She joined the law school in 2011 as the school's first Director of Professionalism & Engagement after 13 years of service on the Illinois Appellate Court and 9 years of service as a trial judge in the Circuit Court of Cook County. She has authored hundreds of civil and criminal opinions and orders and was selected as presiding justice several times during her service on the court.
Before becoming a judge, Justice Frossard was an assistant state's attorney. She was Chief of the Felony Trial Division from 1987–1988, supervising more than 100 felony trial and appellate attorneys. She specialized in violent crimes prosecution, completing more than 500 bench trials and 50 felony jury trials. Leaving the Cook County State's Attorney's Office, she was elected to the Cook County Circuit Court. Beginning in 1988, she presided over felony and misdemeanor cases throughout Chicago. From 1989–1997, Justice Frossard was assigned to the 2nd District Courthouse in Skokie, Illinois, where she presided over 50 civil jury trials and 50 criminal jury trials.
While serving on the Illinois Appellate Court, Justice Frossard was appointed to the Governor's Commission to Rewrite the Criminal Code and the working group for the Governor's Commission on the Status of Women. She also served on the Executive Committee, the Settlement Committee, and the Committee on Standing Rules, Computer, and information Systems. Justice Frossard just completed 2 years on the CBA Board of Managers. She is currently serving on the Illinois Judicial Ethics Committee, where for the past 20 years she has authored ethics opinions and articles.
Justice Frossard taught Trial Advocacy for over 25 years as an Adjunct Professor at Northwestern Law School and has taught Trial Advocacy, Professional Responsibility, Illinois Evidence and Illinois Civil Procedure as Associate Dean here at UIC Law. She has published and lectured extensively. She is married to an alumnus of the law school, E. Steven Yonover, who specializes in complex civil and criminal litigation.