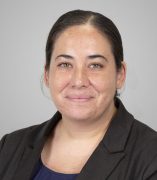 Yelena Duterte
Assistant Professor of Law
Director, Veterans Legal Clinic
Contact
Address:
300 S. State Street, Chicago, Illinois 60604
Office Phone:
Email:
CV Link:
Related Sites:
About
Yelena Duterte joined UIC School of Law in 2019 as an Assistant Professor of Law and the Director of the Veterans Legal Clinic. Prior to joining UIC, Professor Duterte taught and directed the Veterans Legal Clinic at Syracuse University College of Law.
In clinic practice, Professor Duterte represents veterans with lower than honorable discharges to assist them in obtaining healthcare, disability compensation, and upgrading their discharge. Professor Duterte makes every effort to teach students how to practice client-centered lawyering and refine their overall lawyering skills.
In the classroom, Professor Duterte strives to be patient, clear, engaging, and inclusive.
Professor Duterte is a past-president and active member of the National Law School Veterans Clinic Consortium (NLSVCC). She received her law degree from University of Illinois Chicago School of Law and her B.A. in Economics and Political Science from University of Illinois Chicago.