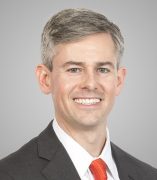 Ramsey Blake Donnell
Associate Dean of the Law Library
Clinical Professor of Law
Contact
Address:
300 S. State Street, Chicago, Illinois 60604
Office Phone:
Email:
CV Link:
Related Sites:
About
Ramsey Donnell has served as the Associate Dean of the Law Library & Information Services since 2019 and holds an appointment as Clinical Professor of Law. He manages UIC Law's Louis L. Biro Law Library, Information Technology Services department, and Educational Technology department. He has managed these departments since 2014, when he was appointed Director of Library & Technology of UIC Law's predecessor, The John Marshall Law School. He has worked at the Law School since 2009, as a reference librarian, Head of Access Services, and Associate Director for Access & Organization. He has taught Advanced Legal Research and Business Transactions and Representing the Business Client.
Donnell played an integral role in the acquisition of The John Marshall Law School by the University of Illinois Chicago, serving as Co-chair of both the Information Technology Systems Integration and Library Integration Working Groups. He also served on the Fiscal Matters and Contract Administration and Facilities Management, Premises Branding, and Security Working Groups.
Before pursuing a master's degree in Library & Information Science, Donnell practiced corporate law with Katten Muchin Rosenman LLP in Chicago. He worked on a variety of corporate transactions, including the acquisition/sale of companies, public offerings of securities, and complex technology licensing and services agreements.
Donnell holds a BA in history from Dartmouth College, a JD from the University of Virginia School of Law, and an MS in Library & Information Science from the University of Illinois.