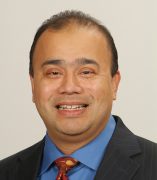 Arthur Acevedo
Professor of Law
Contact
Address:
300 S. State Street, Chicago, Illinois 60604
Office Phone:
Email:
CV Link:
Related Sites:
About
Arthur Acevedo joined the Law School in 2007. He teaches Constitutional Law, Income Tax, and Business Corporations. Before joining the Law School, he taught at the University of Baltimore School of Law. He previously taught as an adjunct professor at DePaul University. Prior to joining the legal academy, Professor Acevedo worked for McDonald's Corporation, Marbo Inc., Price Waterhouse, and the Internal Revenue Service.
Professor Acevedo's scholarship focuses on tax law, corporate law, and corporate responsibility. His writings include examining the auditor's role under the Sarbanes-Oxley Act; the failure by the SEC to provide clear accounting standards; the abuse of tax positions by income tax protesters and tax shelter promoters; and the failure of the legal system in promoting corporate responsibility.  His most recent scholarship analyzes the interaction of corporate law and constitutional law, and asserts that corporate self-interest benefits when engaging in ethical decision-making.  His scholarship examines the appropriation of the United States Constitution by corporate interests and its implications on our social, economic, and political institutions.  His writings have been cited by numerous writers including the United States Court of Appeals for the Seventh Circuit.
Professor Acevedo is a three-time graduate from DePaul University where he received his undergraduate degree with a double major in accounting and finance, his Master of Science in Taxation, and his Juris Doctor degree.  Professor Acevedo also successfully passed the CPA exam. He is fluent in Spanish and proficient in Portuguese.
Professor Acevedo is a mentor and faculty advisor to the Latino Law Student Association at UIC Law.  He is also the recipient of numerous awards.  He sits on the Board of Directors of the Josephinum Academy, a Catholic, college-prep girls' high school empowering inner-city young women with a world-class education and a 100% college placement record.