UIC Law Students Seek to End Mass Incarceration Through Education with Inside-Out Prison Exchange Program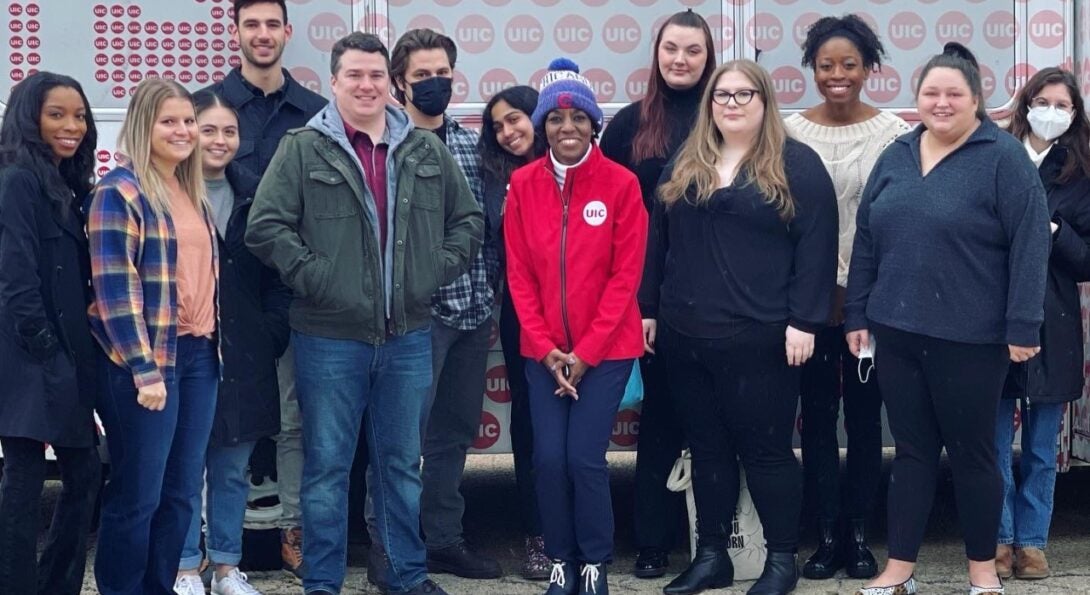 UIC Law students participated in a transformative learning experience called Inside-Out in support of the university's continuous advocacy for restorative justice.
The Inside-Out Prison Exchange program was created 25 years ago by Founder and Executive Director, Lori Pompa, at Temple University and has since developed into an international program in scope.
With a mission to end mass incarceration through education, the program seeks to take higher education based students who are on the "outside" into a local correctional facility where they can learn, study, and teach law principles to residents on the "inside." (The Inside-Out program refers to incarcerated persons as the inside "residents.") The goal is to equip student residents with the knowledge and skills needed to succeed once they return to the outside world.
After participating in the Inside-Out program at Howard University, current University of Illinois-Chicago (UIC) Dean of Libraries Rhea Ballard-Thrower was excited to bring this program to UIC Law after hearing about the university's extensive restorative justice work. Dean Ballard-Thrower, a former law librarian and member of the UIC Law faculty, titled her course, "Students in Jail." The course is designed to break down barriers, biases, and prejudgments by bringing together students and residents from diverse cultures and backgrounds and creating an environment conducive to learning and connecting on a human level. After a year of extensive training and certifications, the Inside-Out program is available to UIC Law students.
"Whenever the time comes for the residents to leave the facility, we want them to have the confidence of knowing they can complete collegiate work and understand law school curriculum," Dean Ballard-Thrower said regarding the mission of the program, adding, "and we hope for those student residents that are interested in an education, to pursue a higher education, whether an associates or a bachelors, when they return to the outside."
Dean Ballard-Thrower's semester-long, hands-on course allowed law students to connect with residents at the Cook County Department of Corrections Men's Facility Division 11. Due to the Department of Corrections' Covid 19 protocols, the course was held online once a week. The students learned and discussed such topics as legal research and writing, primary and secondary resources, risk assessment algorithms, and the implications of newly implemented laws like cash bail reform (The Illinois SAFE-T Act).
Near the end of the semester, the students complete their group project, which is an important part of the course. The law students and the inside residents worked in teams to present their research on the SAFE-T Act. Fortunately, the Department of Corrections permitted the law students to meet the residents in-person and work on their group projects while at the facility.
For the last session, Dean Ballard-Thrower hosted an in-person graduation ceremony at the facility where the students were able to showcase everything they've learned. The law students earned course credit, while the inside residents received a certificate of completion.
"I was able to learn how to read, write, and understand legal citations. It used to look like a foreign language to me. Now if I am requesting information from the legal library, I know how to write out my request in a specific way that gets me the results I need. Prior to that, my request would get thrown out because it was not in the proper format," said one student inmate.
"This class definitely opened my eyes. As soon as we left class, we would immediately start recapping and doing our homework. The other guys would be like 'why are you all so focused over there?' and it started generating interest to other people to want to study the law as well. I can't wait to share everything I've learned with my family and other friends that are locked up so hopefully it can change their situation as well," said another student inmate.
The Inside-Out program also shed a new light for UIC Law students who would be conducting this kind of work and research upon pursuing their legal careers post law school graduation.
"Participating in this program made it feel more real. It makes us want to get out there in the real world and create change," said 3L1 student, Matt L.
"They [student residents] made what we're doing really worth it. This stuff isn't easy, but seeing their passion only ignited our passion," said another 3L student.
"If I can convince the law students to do this kind of work once they graduate, there is no stopping them!" Dean Ballard-Thrower concluded.
Modified on January 11, 2023