UIC Law Hosts Ready. Set. Law! Undergraduate Preparation Program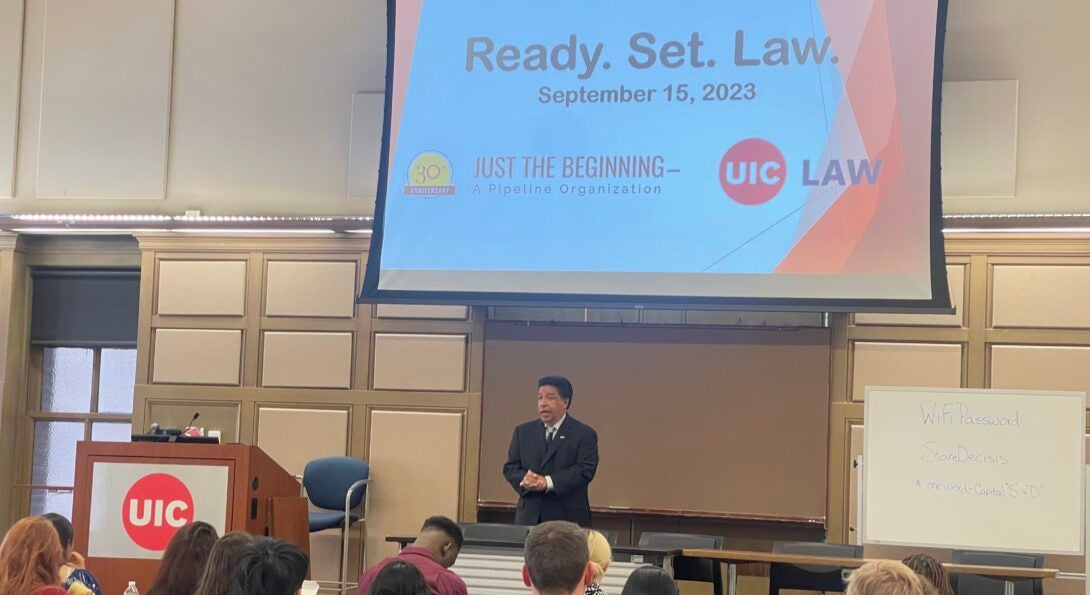 UIC Law School hosted Ready. Set. Law! in partnership with Just the Beginning (JTB): A Pipeline Organization on September 15. This one-day law school information and preparation program was designed to introduce and nurture the interest of diverse undergraduate students who are underrepresented in the legal profession. Participating students were exposed to the admissions process, tips for success, a mock class and networking opportunities with law school leaders, attorneys, and alumni.
The day began with a complimentary breakfast and welcome address from UIC Law Dean Nicky Boothe and JTB Executive Director Antonette Smith. Immediately following was a 'Do's and Don'ts of Law School' presentation by Phillip Harrinarine, Senior Ambassador and Director of School Accounts at the Law School Admission Council (LSAC). During this presentation, Phillip discussed LSAT sections, scoring, and the various components of a complete law school application.
Students then participated in a 'Journey to Law School" panel featuring current UIC Law students Lindsey Avalos (3L), Leah Hall (2L), Alexis Hernandez (3L), and Stella McMillan (2L), as well as Spring 2023 graduate Bradley MacDonald. During the discussion, panelists spoke about law student life, the major differences between law school and undergrad, and the incredibly competitive and rigorous nature of most law schools. Panelists also touched on class instruction methods, specifically the Socratic Method.
After the panel was a presentation from Sabreena El-Amin, a Harvard Law School graduate and Partner at CTM Legal Group. In the presentation, Sabreena discussed her law background and introduced students to the Public Interest Law Initiative (PILI), a pro bono litigation program based in Chicago. The program also offers law student internships and graduate fellowships that place participants at various public interest law organizations and provides funding for their work.
As participants were on break for lunch, they had the incredible opportunity to ask questions and hear from UIC Law alum Justice Jesse Reyes of the Illinois 1st District Appellate Court. Justice Reyes discussed his law school experience, his path to becoming a judge, and what his role entails. Additionally, Justice Reyes gave a high-level insight on the various branches of government, the court systems, and how each one operates.
The program continued with a mock TORTS class taught by UIC Law Professor Rogelio A. Lasso. In his lecture, Professor Lasso introduced different cases and scenarios to students and incorporated the Socratic Method of teaching to give participants the feel of a real law school class.
The program concluded with a presentation from UIC law alum and Kirkland & Ellis Associate Yoshi Haynie. Yoshi's presentation focused on the power of personal branding and the role it plays in the competitive nature of the law field. The key takeaway was that from your law school applications to post-graduate work endeavors, having a personal brand helps set you apart from the pool of candidates and attorneys. Yoshi also provided resume tips, information on his Law School Mentor Program, and contact information for anyone interested in connecting with him.
Take a look at some highlights from the program below.
About Just the Beginning
Just The Beginning is an organization that offers pipeline programs directly aimed at inspiring young students and increasing diversity in the legal profession and judiciary. These programs include the Middle School and High School Summer Legal Institutes, an Advanced Summer Legal Institute, law student externships, law student scholarships, programming in schools that target under-served and minority high school and college students, and biennial conferences that bring together diverse legal leaders of local communities.
Modified on September 26, 2023