The Legacy Continues: Law School Alumna to Receive Don Dunner Leadership Award for Intellectual Property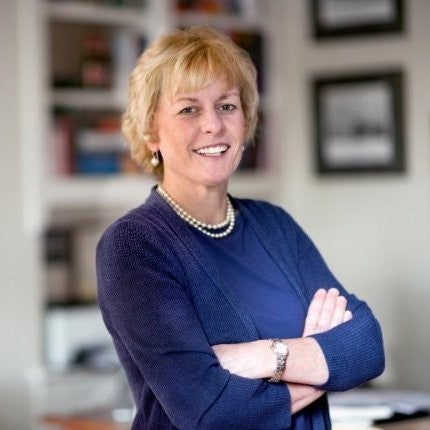 Lisa Dunner (J.D. '95), daughter of "giant among U.S. patent bar practitioners" and previous law school IP Advisory Board Chair, the late Donald "Don" Dunner, will be honored with the Don Dunner Leadership Award at the 67th annual Intellectual Property, Information, and Privacy Law conference this fall.
An intellectual property (IP) attorney making strides in trademark and copyright law, Lisa continues to carry on her father's legacy as a trailblazer in the IP industry.
Lisa has been recognized as one of the world's "Top 250 Women in IP," one of the world's top 1000 trademark attorneys and an IP Star.  Graduating from the law school in 1995, Lisa embarked on a career in private practice, starting at the DC firm of Cushman Darby & Cushman.  She moved to McDermott Will & Emery where she became a partner, and in 2003, Lisa launched her own Certified Woman-Owned firm – Dunner Law.  After 21 years of running her trademark and copyright firm, Lisa recently merged Dunner Law with Raphael Bellum, a Virginia patent firm, where she now serves as the Trademark/Copyright Practice Leader.
Lisa is a past Chair of the ABA Section of Intellectual Property Law and currently an Officer and Delegate for the ABA IPL Section.  She served as a Commissioner on the ABA Commission on Women in the Profession during which she Chaired the GRIT Committee.  Lisa was Founding Editor in Chief of the ABA IPL Landslide magazine, Founder of the ABA IPL's Women in IP and a frequent Mentor and Speaker on various IP and career topics.
Lisa served a 3-year appointment by the U.S. Secretary of Commerce on the U.S. Patent and Trademark Office's Trademark Public Advisory Committee. She has testified before the U.S. Congress House of Representatives, Committee on the Judiciary, regarding the U.S. Copyright Office.  Lisa has also served on various Boards, including recently, the Foundation for Advancement of Diversity in IP Law, where she chaired the Mentoring committee.

The Intellectual Property, Information, and Privacy Law Conference is a must-attend event for professionals in the field. It offers a unique opportunity to connect with industry leaders, gain valuable insights, and engage in discussions surrounding the latest developments in intellectual property, information, and privacy law. Attendees will be empowered to contribute to the creation of better laws and policies that foster innovation, creativity, and entrepreneurship.
Renowned for its interactive format, the conference will feature a diverse lineup of panelists and keynote speakers. Participants can expect in-depth discussions on a wide range of topics, including the future of intellectual property rights and the intellectual property office, artificial intelligence and its legal implications, cybersecurity, trade secrets, and federal and state privacy efforts. With such a comprehensive agenda, attendees are guaranteed to leave with a wealth of knowledge and fresh perspectives.
Modified on October 25, 2023