UIC Law Students Dominate at Fall 2022 Dean Fred F. Herzog Moot Court Competition
UIC Law Students Dominate at Fall 2022 Dean Fred F. Herzog Moot Court Competition Heading link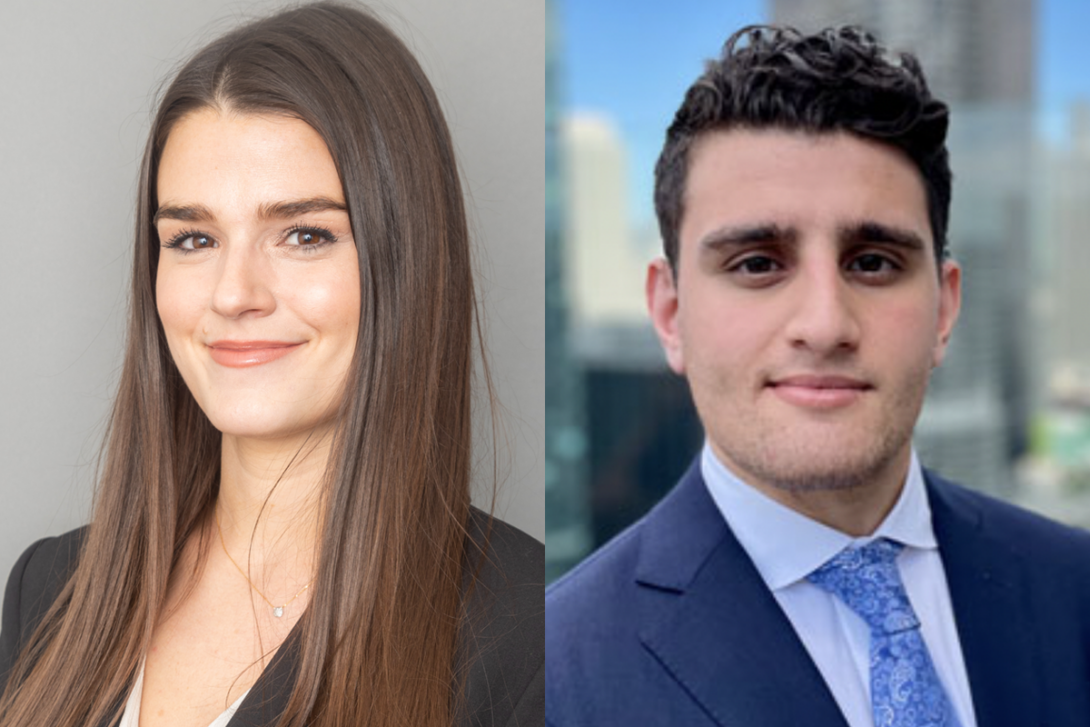 Out of 127 competitors, our UIC Law students were the top two Herzog Moot Court Competition Finalists!
The Moot Court Honors Program hosts the Dean Fred F. Herzog Moot Court Competition during the Fall, Spring and Summer semesters. During this course, participants attend class with a professor and a student teaching assistant. Each competitor is required to research and write two Supreme Court appellate briefs, as well as prepare an oral argument to present in competition at the Dirksen Federal Court House. Competition rounds are judged by local practitioners and jurists.
We are proud to extend our congratulations to all 127 students who successfully completed Fall 2022 LS III! The winners of the Herzog competition are as follows:
Herzog Winner: Audrey Heckman
Herzog Finalist: Peter Nikho
Semi Finalists: Katherine Chyna, Katie Hanson
Quarter-Finalists: Alyssa Hurt, Paige Moffet, Jordin Pearson, Kylah Eatman
Octo-Finalists: Jacqueline Arroyo, Jenna Cederblad, Katherine Chyna, Lauren Coppinger, Maggie Dollarhide, Madison Fortman, Nicholas Haley, Bailey Sanders, Lillie Therieau
Best Petitioner's brief: Madeline Paradkar
Top 5 Petitioner briefs: Katie Hanson, Alyssa Hurt, Peter Nikho, Simi Thakur
Best Respondent Brief: Audrey Heckman
Top 5 Respondent briefs: Maggie Dollarhide, Kylah Eatman, Jordin Pearson, Carly Thiel
Best Petitioner Oralist: Peter Nikho
Top 5 Petitioner Oralists: Andrew Becker, Lauren Coppinger, Madison Fortman, Molly McDermott
Best Respondent Oralist: Amanda Werve
Top 5 Respondent Oralists: Jenna Cederblad, Kylah Eatman, Nicholas Haley, Lillie Therieau
Thank you to this fall's dedicated LS III faculty: Adjunct Professors Julie Bailey, Tom Bradley, Jerry Brown, Lester Finkle, Mary Grieb, Brian Hoppe, Ronak Joshi, Ken Michaels, Gene Schiltz, and Tracy Stevenson.
Thank you as well to the 21 student "Preparedness Coaches" ("PC's) who served as hardworking peer mentors in the classroom and out. Board member Lucas Szulczynski recruited and trained them: Liqa Mahmoud Affaneh, Joseph Alguzzeh, Tom Bacharz, Sofia Bergfeld, Deja Clemons, Rory Cusack, Isaac French, Meghan Golden, Savannah Halcomb, Joelle Juarez, Jack Kunkel, Michelle Lewis, Neda Manouchehri, Elizabeth Monroe, William Nondorf, Sophia Park, Danielle Polito, Carolina Santillan, Jack Sikora, Carly Strand, Meredith Wines.
Kudos as well to all those behind the scenes (both inside and outside the school) who put together the moving parts of the Herzog competition and made a big event run smoothly. Special thanks to the 60 practitioner and alumni judges, plus brief graders, as well as Head Herzog Directors Kyle Foster-Bailey, Brad MacDonald, and Alexa Whalen and the 31 student bailiffs they led. Thanks also to Head Tech Grader Erin Freeman and the Moot Court Board tech graders. And special thanks to Assistant Director Linda McHugh and Chief Justice Andrea Carro and Executive Justice Alyssa Vranak, who led the whole operation.
Modified on December 08, 2022