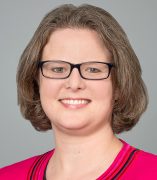 Jennifer Pope
Assistant Dean for Student Life & Leadership
Contact
Address:
300 S. State Street, Chicago, Illinois 60604
Office Phone:
Email:
About
Jennifer Pope, Ph.D., has been the Assistant Dean for Student Life & Leadership at UIC Law since 2017.  In this role, her primary responsibilities are to support students outside of the classroom by connecting them to resources, developing wellness opportunities, advancing student-centered polices, and promoting a safe, welcoming, and inclusive campus community.
Before coming to UIC Law, Assistant Dean Pope worked as Director of Student Affairs at the Adler School of Professional Psychology (now Adler University) and Director of the International Office at North Park University, where she advised incoming international students, developed outgoing study abroad programs, and oversaw the University's internationalization policies.
Assistant Dean Pope received her B.A. and M.A. from North Park University and her Ph.D. from Chicago Theological Seminary, where her interdisciplinary studies in queer theory and theology focused on utilizing a community's cultural artifacts to develop inclusive ministry opportunities with the intersex community.
Assistant Dean Pope is active in the National Association of Law Student Affairs Professionals; she co-chairs the Wellness for Us Committee, is a member of the Competencies Task Force, and presents at national conferences. She is passionate about holistic student wellness and providing opportunities for students to think critically and intentionally about their values, vocation, and experiences.