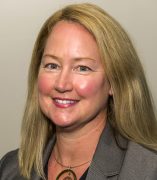 Kelly Anne Navarro
Director
Trial Advocacy & Dispute Resolution Program
Contact
Address:
300 S. State Street, Chicago, Illinois 60604
Office Phone:
Email:
CV Link:
About
Kelly Navarro is the Director of the Law School's Trial Advocacy & Dispute Resolution Program. She manages the nationally ranked trial advocacy and dispute resolution competitive team program and administers and teaches advocacy simulation courses.
Navarro has taught Criminal Procedure - Adjudication, Prosecution Externship Practicum, Judicial Externship Practicum, Mediation Certification, Accelerated Trial Advocacy, and Trial Lawyer. For nearly 30 years, she directed the ABA JMLS National Criminal Justice Trial Competition.
As a certified mediator, Navarro founded and directed the Law School's Conflict Resolution Institute, where she taught a mediation certification and skills training course and supervised students as they mediated, arbitrated, or represented clients in pending cases.
Before joining the law school, she served as a Cook County State's Assistant State's Attorney, where she gained significant trial experience and specialized in the prosecution of sex crimes. As a practitioner, she serves as an arbitrator, mediation trainer, and criminal defense attorney.