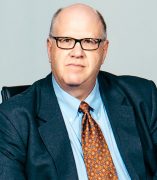 Gary Friedlander
Interim Director
Center for Intellectual Property, Information & Privacy Law
Contact
Address:
300 S. State Street, Chicago, Illinois 60604
Office Phone:
Related Sites:
About
Gary Friedlander was named Interim Director of UIC Law's Center for Intellectual Property, Information & Privacy Law. Previous to his appointment, he was Senior Vice President, Deputy General Counsel – International for TransUnion, where he was responsible for providing legal and business guidance to all levels of domestic and international management and internal operation units.
A member of the TransUnion International Leadership team, Mr. Friedlander served as a subject matter expert for a variety of legislative, regulatory and business issues including data protection and complex global intellectual property and technology transfer agreements. He oversaw and managed a team of in-house attorneys located in the U.S., Brazil, Canada, Colombia, Hong Kong, India, Kenya, Philippines, and South Africa along with several international and domestic outside counsel. He served on the Boards of TransUnion companies in Africa, Asia, Canada, and Central America, including TransUnion CIBIL, India's oldest and largest credit information company. Mr. Friedlander is credited with establishing TransUnion's intellectual property program, which provides in-house intellectual property guidance and training primarily in the areas of patents, licensing, and trademarks.
Mr. Friedlander has more than 30 years of experience in handling legal issues for organizations. Before joining TransUnion in 1999, Mr. Friedlander managed the Customer & Supplier Contracts operations for Rockwell Electronic Commerce Corporation. He also negotiated R&D and technology transfer agreements as an attorney for the Gas Research Institute. Prior to obtaining his law degree, Mr. Friedlander held various positions at the IBM Corporation.
Mr. Friedlander is the recipient of a 2013 First Chair Award for Top Corporate Counsel and a 2013 Distinguished Service Award of Merit from the Illinois Chapter of the National School Public Relations Association. He has served in various capacities in community organizations, including, the WBEZ (National Public Radio) Community Advisory Counsel, as a mediator for Chicago's Center for Conflict Resolution and is also a past president of the Board of Education for Aptakisic-Tripp School District 102 in Buffalo Grove, Illinois.
Mr. Friedlander earned his JD from the Law School in 1987 and BS from Northwestern University in 1982. He is a member of the Illinois, Northern District of Illinois, and U.S. Supreme Court bars.