UIC Law Hosts Rising Attorneys Inclusive Summer Experience (R.A.I.S.E) for Undergraduate Students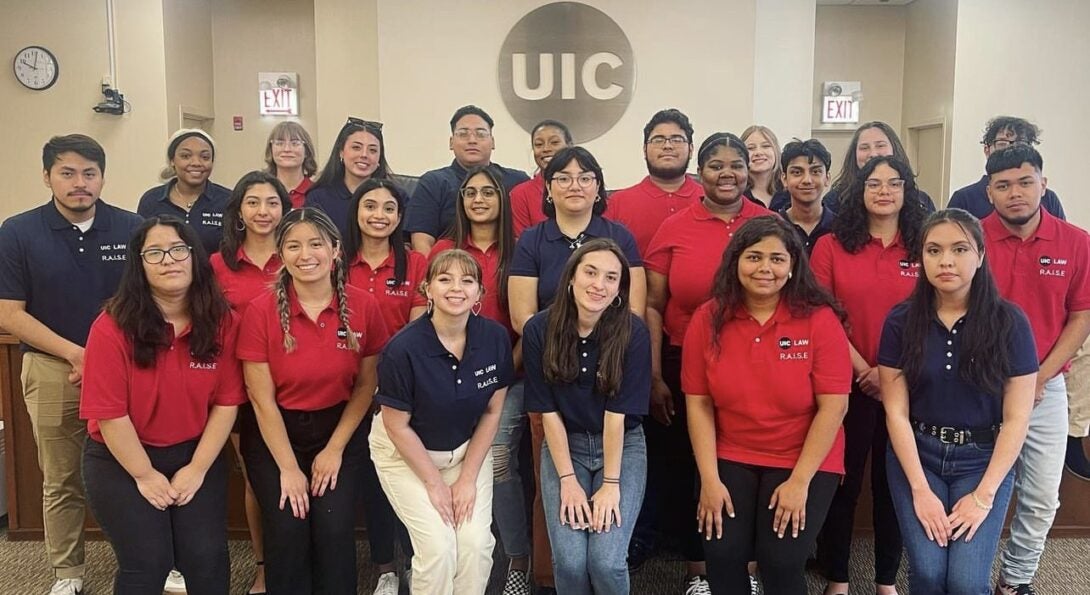 UIC Law hosted a two-day immersive law school experience for UIC undergraduates interested in pursuing a legal education. The Rising Attorneys Inclusive Summer Experience (R.A.I.S.E.) was designed to provide access and information to students interested in impacting their communities by using a law degree to promote social justice.
R.A.I.S.E participants got a chance to explore how to prepare for, apply to, and finance law school; what to expect during law school; and how they can use a J.D. to improve themselves, their community, and society. In addition, participants were introduced to and had a chance to network with the UIC Law community, including a host of judges, justices, current students, alumni, and faculty.
Read highlights from the program below.
Panel Discussions
R.A.I.S.E participants got a chance to connect with many members of the UIC Law family, both faculty and staff, who all came together to share their expertise. Panel discussions covered such topics as: "How to get into law school", "how to finance law school", "The law and you" and "How to succeed in law school".
Many members of the UIC Law faculty and staff have gone through the same rigorous curriculum and were able to share insights, tips, and tricks on how to manage it all.
"When you receive a piece of advice, make sure to add the statement 'for me' at the end. When people give you advice, it is often what has worked for them. Your learning style is unique to you. You can only take pieces of the advice that will work for you," advised professor and alum Ravi Sahota.
Current UIC Law student Alyssa Hurt was also able to offer some advice to participants: "Read a lot for pleasure in the summer before you start law school. That way you can train your brain to be able to handle the amount of reading you'll do in law school."
Mock classes
R.A.I.S.E participants got a chance to walk a day-in-the-life of a law school student by participating in two mock law classes: Property Law and Statue Interpretations, taught by UIC Law professors. Statutory Interpretations provided a first-hand look into how lawyers read and analyze legislation and cases. This mock law class is similar to the Lawyering Skills or Expert Learning curriculum students take here at UIC Law. R.A.I.S.E participants then got a chance to delve into the world of Property Law to see how a lawyer might read cases, extract rules from the cases, and apply the rules to other scenarios.
Students also got a chance to hear from one our Community Legal Clinic directors, Sarah Davila from the UIC Law International Human Rights Clinic, to learn how being an involved student can also help further their law school journey. Students further learned about UIC Law's commitment to social justice and providing asylum to those in need, no matter that geographic location.
Mock trial
Current UIC Law students, professors and alumni came together to prepare our rising attorneys for a trial-winning case. R.A.I.S.E students were divided into groups, assigned roles for the courtroom, and given a case to try. Students argued the People of Illinois v Thorpe in front of real-life judges Justice David Navarro and the Honorable Maryam Ahmad! Justice Jesse Reyes was also attendance to lend his expertise. Jaime Santana, a rising 3L student from the nationally ranked UIC Law Trial Advocacy Team coached his team to a well sought after non-guilty verdict.
Alumni Connection
From mix and mingles to small group discussions, the law school alumni community came together to lend their support and expertise to the R.A.I.S.E program. Previous SBA President and Vice President Yoshi Haynie and Kennedy Harris offered advice on how to remain active and engaged in law school and the importance of making relevant connections. Other distinguished alum, like student turned Professor Kevin Hull, law practitioners Brandy Johnson, James Edwards, Mariam Shariff, and Bethan Wedmore, engage students at the "An evening with UIC Law Alum," event over Mediterranean style cuisine.
Praise for R.A.I.S.E
This inaugural R.A.I.S.E event was well received by students, staff, faculty, and participants.
"[The R.A.I.S.E program] made me more excited for law school and helped confirm that I'm on the right path!" said 12th grade R.A.I.S.E participant Karen Carmona.
"This program showed me that law school is the key to open a lot of doors," added 12th grade R.A.I.S.E participant Bernare Martinez.
For those interested in lending their expertise for the next R.A.I.S.E event, please contact law-R.A.I.S.E@uic.edu.
Modified on June 05, 2023