UIC Law Becomes First Law School to Launch Strategic Agenda of the Judicial Branch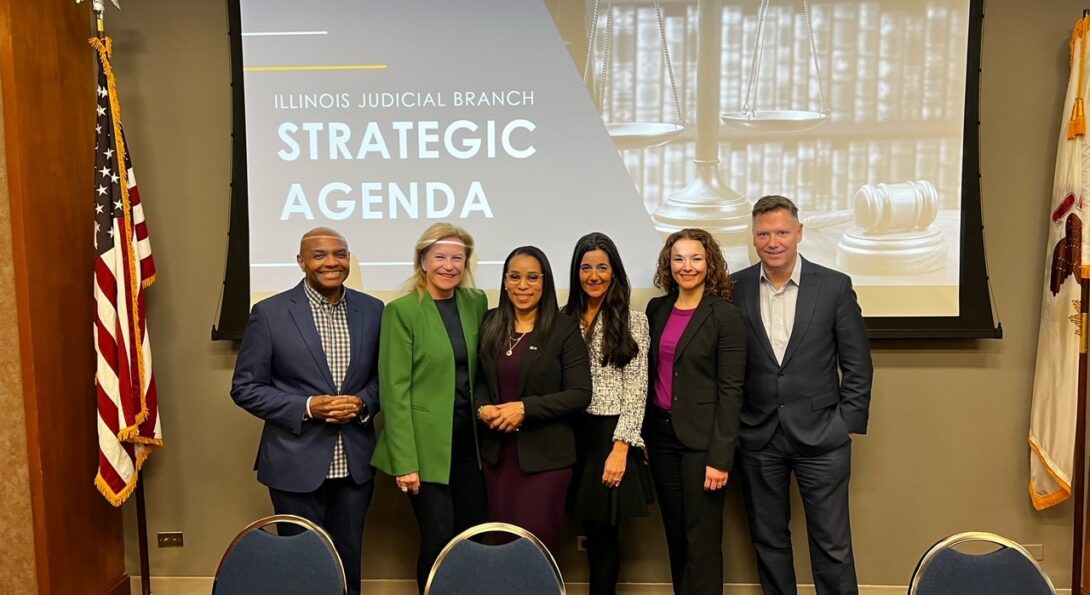 The UIC Law Office of Professionalism & Engagement, in conjunction with the Office of the Dean, launched the Strategic Agenda of the Illinois Judicial Branch by hosting their program: "Charting the Course: Innovations and Transformations within the Illinois Judicial Branch."
UIC Law is the first law school in the State of Illinois to invite the members of the Judicial Branch to discuss their Strategic Agenda and its priorities with 80 UIC Law Students. The panel discussion included Judge Gamrath, Circuit Court of Cook County, Justice David Ellis and Justice Carl Walker from the First District Appellate Court and Communications Director Laura Bagby of the Illinois Supreme Court Commission on Professionalism. The students were fully engaged and listened actively as members of the next generation of lawyers.
By offering this program, the Judicial Branch began the first of many events to educate and increase the public's understanding of the justice system and access to justice with a special focus on law students, starting with UIC Law Students.
--
About The Strategic Agenda
In October 2022, the Illinois Judicial Conference (IJC) unveiled a 3-year Strategic Agenda for the Illinois Judicial Branch.  
The Strategic Agenda serves as a guide for the future of the Judicial Branch as it embraces change to improve the system and actualize its mission of protecting the rights and liberties of all by providing equal access to justice, resolving disputes, and uploading the rule of law.
As part of this, the Judicial Branch is traveling around the state to cultivate open and regular communication with legal professionals and the public to discuss the Strategic Agenda and its priorities. The Judicial Branch is specifically interested in talking to the next generation of lawyers: Illinois law students.
During the session, a member of the Illinois judiciary will walk attendees through the Strategic Agenda and outline the Judicial Branch's priorities for the next three years. This will be followed by a Q&A discussion during which attendees can ask questions and share their thoughts on the priorities outlined and the challenges and opportunities for future lawyers.
Through these conversations, the Judicial Branch hopes to educate and increase the public's understanding of the justice system, as well as identify and understand the unique needs of communities across Illinois, which will help it advance policies that are responsive to statewide needs.
Modified on March 15, 2023