UIC Law Alumna Sworn in by First African American Female Judge in the 20th Judicial District of IL.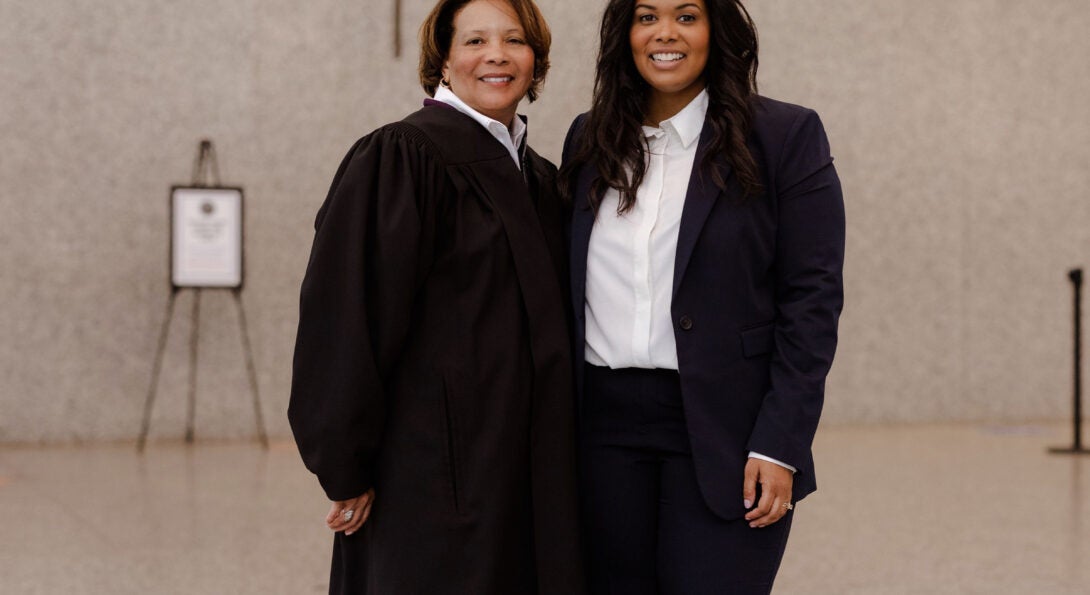 Lauren Lewis' (JD '21) legal pursuit began as a pre-admissions summer program student and ended in graduation with honors and the opportunity of a lifetime.
With the permission of the Illinois Supreme Court, the Honorable Alexis D. Otis Lewis (ret), the first African American female judge in the 20th Judicial District, and Lewis' mother, recently administered the attorney's oath and swearing-in to the Illinois Bar.
Lewis started at UIC Law as a SCALES (Summer College to Assess Legal Education Skills) student, a pre-admission summer program designed to expose and assess incoming students to law school prior to their 1L year.
Lewis credits the SCALES program, led by Dean Samuel Jones, and the "invaluable skills" learned from UIC Law's Legal Writing Resource Center to being instrumental in her success with graduating with honors.
"I was not a good standardized test taker. SCALES taught me how to analyze tests and work on my test taking skills. Additionally, SCALES gave me the confidence that law school was the right choice for me," Lewis said.
After her successful completion of the SCALES program, Lewis enrolled in the part-time evening law program at UIC Law, while simultaneously working to complete her master's degree.
"My mother has always allowed me to choose my own career path," Lewis said regarding her mother's influence on her decision to study law. "She never pushed me to pursue a law degree. However, she advised that a law degree would allow me the opportunity to do a wide variety of things. I had no idea how true that would be for me."
Prior to law school, Lewis worked at Universal Music Publishing Group where her job was to track songwriters' income in the world music market. In order to do this job, Lewis would have to read licensing agreements and other contracts. Often, she would have to consult Business and Legal Affairs to interpret the provisions regarding income. After these frequent consultations with the legal team, Lewis realized that she could combine her enjoyment for the music industry with the law.
Lewis currently works for the University of Illinois-Chicago as a contract coordinator and has a long-term career plan to be an entertainment lawyer.
"Having my mom swear me in was very surreal. She overcame great obstacles to become the First African American female judge in the 20th Judicial District of Illinois. She started as a federal law clerk, then a state prosecutor, private practice, and then a judge. I am honored to walk in her footsteps and be a licensed lawyer," Lewis concluded.
See pictures from Lewis' swearing in ceremony at the Daley Center below.
Modified on January 10, 2023