Study Law in Lucerne, Switzerland
Semester Exchange with the University of Lucerne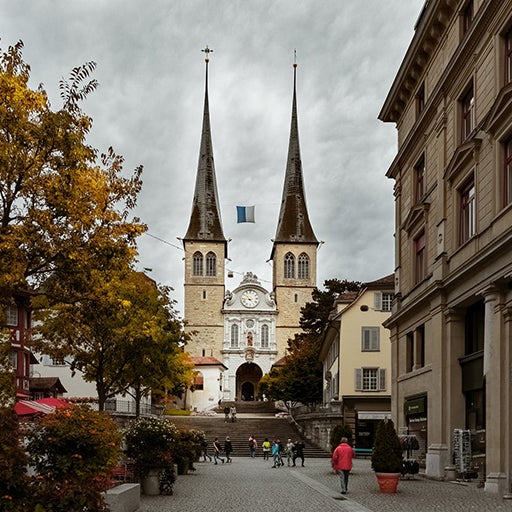 Since 2006, UIC Law's Center for International Law and the University of Lucerne Law Faculty in Lucerne, Switzerland, have promoted an academic exchange of students and faculty. The relationship has allowed UIC Law students to study with one of Switzerland's premier law faculties near the Swiss Alps and picturesque Lake Lucerne.
About the University of Lucerne
With a student population of roughly 3,000, the University of Lucerne is a small, public research university composed of four faculties. Established in 2000, the University of Lucerne is Switzerland's youngest university, and the Faculty of Law is the youngest in all of Switzerland. Despite its size and youth, the University of Lucerne already enjoys renown in many academic disciplines, especially in law and the humanities. The university actively seeks visiting scholars and supports partnerships with international institutions and has more available English courses than any institution in Switzerland.
Student Eligibility
UIC Law students must be at least a 2L1 with at least a 3.0 CGPA to be eligible for the Lucerne Exchange Program. Students in their final semester of study are eligible for the program, but please note delays may occur which impact graduation and taking the bar exam.
Please read the Study Abroad FAQ for more information.
Semester of Study
This exchange program is available during both fall and spring semesters.
Fall Semester: mid-September–mid-December
Application Deadline: March 1
Spring Semester: mid-January–late May
Application Deadline: October 1
Available Courses
The University of Lucerne offers a wide variety of courses in intellectual property, business law, international law, human rights law, and environmental policy. UIC Law students select their courses in consultation with the Center for International Law.
Language Proficiency Requirements
UIC Law students do not need second-language proficiency. The University of Lucerne Faculty of Law teaches many courses in English.
Tuition & Expenses
UIC Law students participating in the Lucerne Exchange Program pay the Law School's prevailing tuition rate. Cost of living in Lucerne is estimated at roughly $9,000-$10,000 USD for each semester.
Please read the Study Abroad FAQ for more information about study abroad expenses.
Student Housing
UIC Law students are responsible for finding and paying for their own housing; however, the University of Lucerne offers visiting students some housing options. Students are also allowed to coordinate off-campus accommodations in the city.
Please read the Study Abroad FAQ for more information about housing.
Home to roughly 80,000 residents, Lucerne is a mid-sized urban city located in the center of Switzerland, off the shores of Lake Lucerne and within sight of the Swiss Alps. Aside from the aesthetic beauty of the area, Lucerne is home to the Lucerne Symphony Orchestra and the 21st Century Symphony Orchestra, the Südpol Center for Performing Arts, and a variety of smaller establishments for live music, comedy shows, and theatre. The city also hosts many annual outdoor festivals, attracting tourists from across Europe and the world. Lucerne also boasts a number of professional sporting teams.
Climate
Lucerne experiences a significant amount of rain throughout the summer and many inches of snow throughout the winter. Late summer and fall months tend to be drier and cool, and winter and spring months tend to be cold and snowy.
Transportation
Lucerne maintains a developed public transportation network, which includes railways, trolleybuses, and motorbuses within the city and neighboring municipalities. Lucerne is also connected to the larger Swiss Federal Railway, offering visitors and locals access to all corners of the country.