Study Law in Glasgow, Scotland
Semester Exchange with the University of Strathclyde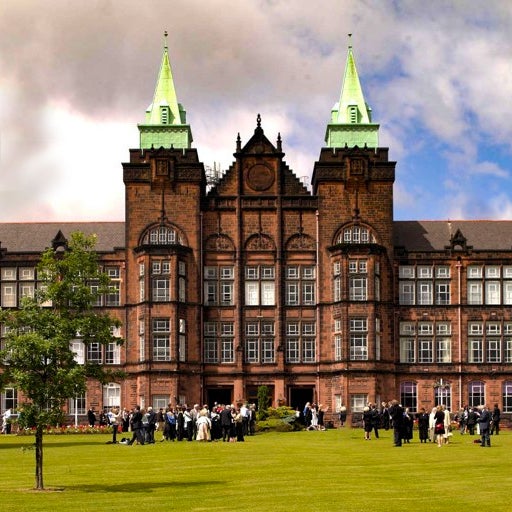 In 2015, the Law School and the University of Strathclyde in Glasgow, Scotland, entered into an agreement to allow UIC Law students to study at one of the UK's premier faculties of law. Founded in 1796, the University of Strathclyde is the third-largest university in Scotland and is the only university to receive the Times Higher Education University of the Year award twice.
About the University of Strathclyde
With a student population of roughly 22,000, the University of Strathclyde is a large, urban public research university composed of four faculties and 28 departments. The first technological university in the UK, the University of Strathclyde is particularly renowned for its engineering and technology programs. Although the law school is somewhat young—established in 1964—it has graduated multiples solicitor generals, members of parliament, and members of the supreme criminal and civil courts in the College of Justice.
Student Eligibility
UIC Law students must be at least a 2L1 with at least a 3.0 CGPA to be eligible for the Strathclyde Exchange Program. Students in their final semester of study are eligible for the program, but please note delays may occur which impact graduation and taking the bar exam.
Please read the Study Abroad FAQ for more information.
Semester of Study
This exchange program is available during both fall and spring semesters.
Fall Semester: mid-September–early January
Application Deadline: March 1
Spring Semester: mid-January–late May
Application Deadline: October 1
Available Courses
The University of Strathclude offers a wide variety of courses in constitutional law and theory, human rights law, technology law, environmental law, administrative law, and law and public policy. UIC Law students select their courses in consultation with the Center for International Law.
Language Proficiency Requirements
All courses at the University of Strathclyde are taught in English.
Tuition & Expenses
UIC Law students participating in the Strathclyde Exchange Program pay the Law School's prevailing tuition rate. Cost of living in Glasgow is estimated at roughly $8,000-$9,000 USD for each semester.
Please read the Study Abroad FAQ for more information about study abroad expenses.
Student Housing
UIC Law students are responsible for finding and paying for their own housing; however, the University of Strathclyde offers some housing to visiting students. Students are also allowed to coordinate off-campus accommodations in the city.
Please read the Study Abroad FAQ for more information about housing.
Home to nearly 700,000 residents, Glasgow is Scotland's largest city and an economic and cultural hub of the region. Glasgow is renowned for its architecture, arts scene, and legendary music tours. Glaswegians also regularly enjoy pub crawls and brewery tours, a large variety of sporting events, theatre and art festivals, and shopping and restaurants in the Glasgow City Centre.
Climate
Glasgow tends to be the rainiest city in all of the UK, experiencing roughly 170 days per year of precipitation. Temperatures in the city tend to be quite mild, with cool falls and winters, mild and pleasant springs, and warm, wet summers. Glasgow rarely experiences temperatures above 75°F or below 40°F.
Transportation
Glasgow has a large urban transport system, primarily managed by the Strathclyde Partnership for Transport, that accounts for the most extensive urban rail network in the UK (outside of London), with rail services travelling throughout all of Scotland. The city also has many bus services and operates the Glasgow subway system.