Study Law in Santa Fe, Argentina
Semester Exchange with Universidad Nacional del Litoral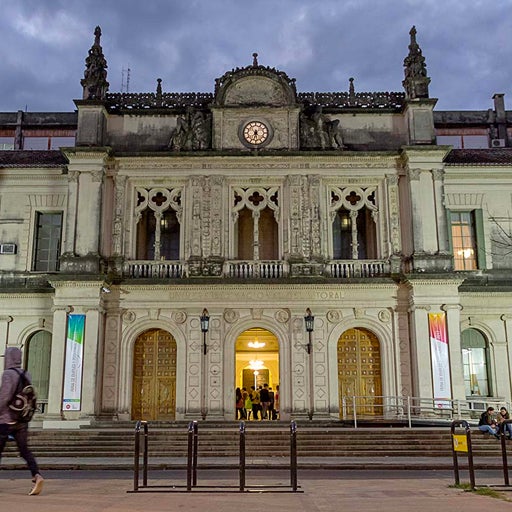 Established in 2019, the semester exchange program with the Universidad Nacional del Litoral (UNL) provides UIC Law students an opportunity to study with one of Argentina's premier faculties of law. Established in 1919, UNL has graduated multiple justices of the Supreme Court of Argentina, numerous Argentinian politicians and government officials, and a long list of other Argentinian writers, researchers, and luminaries.
About Universidad Nacional del Litoral
Instructing roughly 50,000 students, UNL is a large, urban university composed of 10 faculties with more than 140 unique degree programs. The Santa Fe campus houses multiple libraries for its various faculties, contains two university-managed museums, and hosts monthly arts and cultural events for students and residents of the city.
Student Eligibility
UIC Law students must be at least a 2L1 with at least a 3.0 CGPA to be eligible for the UNL Exchange Program. Students in their final semester of study are eligible for the program, but please note delays may occur which impact graduation and taking the bar exam.
Please read the Study Abroad FAQ for more information.
Semester of Study
This exchange program is only available during the fall semester and roughly tracks the UIC academic calendar.
Fall Semester: August–December
Application Deadline: March 1
Available Courses
UNL offers a wide variety of courses in international law, administrative law, criminal law, constitutional theory and human rights, and law and public policy. UIC Law students select their courses in consultation with the Center for International Law.
Language Proficiency Requirements
All courses are taught in Spanish, so participating UIC Law students must be fluent in Spanish.
Tuition & Expenses
UIC Law students participating in the UNL Exchange Program pay the Law School's prevailing tuition rate. Cost of living in Santa Fe is estimated at roughly $8,000-$9,000 USD for each semester.
Please read the Study Abroad FAQ for more information about study abroad expenses.
Student Housing
UIC Law students are responsible for finding and paying for their own housing; however, UNL offers some housing for visiting students. Students are also allowed to coordinate off-campus accommodations in the city.
Please read the Study Abroad FAQ for more information about housing.
Located in the northeast corner of Argentina, between the Salado River and the Setúbal lagoon, Santa Fe is a mid-size city with an urban population of roughly 400,000. Although significantly smaller than Argentina's famous capital and largest city, Buenos Aires, Santa Fe boasts an eclectic variety of parks, museums, and zoos; a bustling nightlife along the historic river walk; and two professional fútbol teams.
Climate
Santa Fe experiences hot, humid summers and warm, mild winters. Students arriving in August can expect a few months of pleasant, warm temperatures before the weather turns hot and wet toward the end of the exchange program.
Transportation
Santa Fe maintains buses, or "colectivos," as the main transportation system. Taxis, which are reasonably priced, are another great way to see sights around the city.